Benefits of GFRC Lightweight Planters and Water Fountains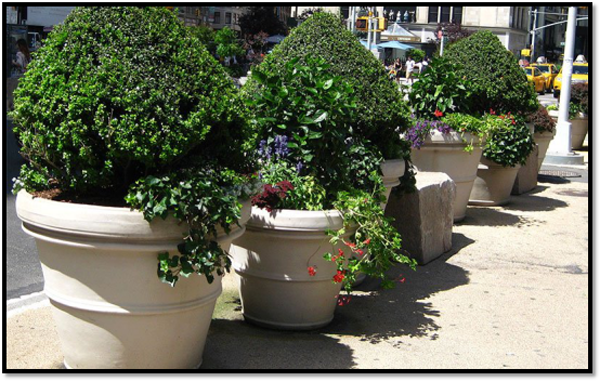 Do you wish to incorporate the 'wow' factor into your indoor or outdoor landscape? With an architectural design to put in your garden projects which may help and contributes earth friendly or environmental-friendly to every indoor or outdoor decoration. Having artistic taste certainly plays an important role when it comes to creating a great first impression. It may appear suitable to set up very large planters, but they will always be very difficult to carry and shift around. For this reason, consider Pietro Stoneware GFRC extra large lightweight planters for brightening up your outdoor space.
What are they made of?
You are likely to find many extra-large planters made from Glass Fiber Reinforced Cement Materials (GFRC), which ensure both durability and minimum maintenance by having great designs that suitable for all types of garden decors. Pietro Stoneware's Glass Fiber Reinforced Cement (GFRC) is a popular material that acts as an alternative to cast stone, steel, ceramic, clay, and other materials used to create weather/moisture resistant design indoors or outdoors. GFRC materials creates modern and classic designs made of cementitious material that will last and worth for the investment. GFRC is made of strong Alkali Resistant (AR) Glass Fibers that possess benefits on their own material that are superior to others.
To ensure that the planters blend seamlessly with your home exteriors or interiors, you can choose from decorative planters in modern and classic styles. You might want to take a look at extra large bowl or egg-pot planters, which will bring about strong interest. Be sure to pick the planters as per your exact space requirements.
Benefits of Glass Fiber Reinforced Cement (GFRC)
Highly moisture resistant: GFRC will not rot, disintegrate or swell when exposed to water, or even completely submerged water.
Lightweight: The strength of GFRC does not require any sacrifices in weight either. In fact, GFRC is, on average roughly 75% lighter weight than concrete, and far lighter than stone and metal.
Vapor permeability: GFRC allows any minor water intrusions through joints or openings to slowly diffuse outward through the exterior surface, preventing cracks.
High compressive strength.
Ability to reproduce fine surface details.
Low maintenance requirements.
Low coefficients of thermal expansion.
High Fire Resistance.
Environmentally friendly.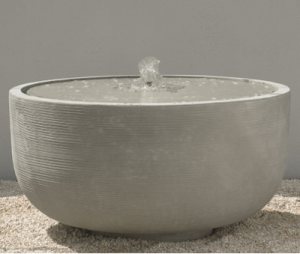 Beautify exteriors with water features
You may have seen fountains being installed in several commercial spaces and outside private homes as well. Despite their usage over a period of time, something is fascinating about these water features which attract every individual. All our Pietro Stoneware fountains are hand finish and patented work of art made in GFRC, weighing less than pre-cast concrete is an ideal choice for outdoor use. Innovative color finishes and handcrafted techniques provide an individual patina that appears to be the result of natural elements patented within the environment. Colors will continue to develop and grow with the environment. These architectural pieces are created with exquisite finishes using hand-applied techniques, resulting in aged looks of iron, bronze, and natural stone.
Not difficult to install
The Installation and maintenance are two factors that deter a lot of people from investing in water fountains. Water in them will be sprayed in patterns either through a nozzle or a bubble, and will easily cascade upon the reservoir present below. Along with excellent designs, some of the other benefits of these water features are low maintenance and high resistance to corrosion. In addition to this, the electrical consumption of a fountain purchased from a reputed dealer will consume less electrical units.
Every fountain comes with a suitable submersible pump, which is necessary to keep the splendor of the water feature intact. The fountain must be within safe reach of an electrical outlet for the pump to function.